74115794AgencyCoordinatorsCollage.jpg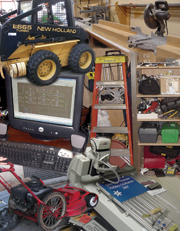 GBA Tenants are state government entities who lease office space from the Georgia Building Authority. They are one of GBA's largest customer groups and are represented by groups of Agency Coordinators designated by each entity. The following resources are provided for designated Agency Coordinators:
Billable Service Requests
Tenant Services is the central point of contact for designated Agency Facilities Coordinators to request Billable Services from GBA.
Billing Inquiries 
Billing Inquiries on services provided to Tenant Agencies can be directed to the GBA Financial Services Office.
Building Access Services
The Access Control Office is the point of contact for designated Agency Access Control Coordinators to manage the issuance of staff identification cards and keys as well as maintain access control information for their facilities.
Emergency Management 
Emergency Reference Guide, Emergency Management Policy, Emergency Quick Facts, Bomb Threat Checklist, Evacuation Map, Employees Needing Assistance.
Facility Management Resources 
Links to useful facility management Web sites.
Housekeeping 
Provides routine custodial services to all Georgia Building Authority facilities on Capitol Hill.
Report a Problem (GBA)
Request routine service or report GBA maintenance issues.
Report a Problem (City of Atlanta)
Report concerns in the public right of way (i.e. potholes, trash pickup, street lights, traffic signals, metal plates, etc.) and or provide feedback on the City of Atlanta's public works services.
Security 
Building security in the Capitol Hill is provided by the Capitol Police Services Unit.
Space Management 
GBA Space Standards are set by the State Properties Commission. The Space Floor Measurements are based on BOMA Office Standards version 1996. GBA designs and measures space based on the current Space Standards and BOMA Office Standards.
Tenant Moves 
The Georgia Building Authority (GBA) will assist agencies in coordinating moves to ensure minimal disruption and a smooth transition.
Tenant Services 
Review Tenant Notifications issued during the last 30 days.
Related Links
Agency Coordinators - Related Links
Agency Coordinators - Related Links