74117927Food-ServiceCollage.jpg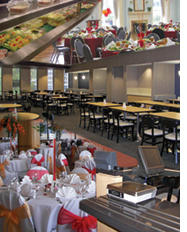 GBA strives to deliver consistent quality services to provide clean, efficient, and safe facilities for Capitol Hill state employees.
Our goal is to provide:
• Convenient, affordable parking
• Well-maintained grounds and buildings
• Safe, clean and comfortable work areas
• Quality cafeteria service

The following services are available to Georgia state government employees on Capitol Hill:
ATM Locations
Automated teller machines located in GBA facilities.
Building Access Services
The Access Control Office is the point of contact for designated Agency Access Control Coordinators to manage the issuance of access cards and keys as well as maintain access control information for their facilities. This office issues replacement cards to state employees.
Cafeterias
Operates two cafeterias for employees of Capitol Hill and the surrounding areas.
Child Care 
State employees are eligible for child care through the Georgia State University.
Commemorative Flags
Commemorative flags of the United States and the State of Georgia are available to the public through the Georgia Building Authority.
Emergency Management
Emergency Reference Guide, Emergency Quick Facts, Bomb Threat Checklist, Evacuation Map.
Housekeeping
Provides routine custodial services to all Georgia Building Authority facilities on Capitol Hill.
Liberty Plaza
A public plaza located across from the Georgia State Capitol large enough to accommodate over 3,000 visitors.
Parking Services
Parking facilities available to state employees for monthly parking.
Report a Problem (GBA)
Request routine service or report GBA maintenance issues.
Report a Problem (City of Atlanta)
Report concerns in the public right of way (i.e. potholes, trash pickup, street lights, traffic signals, metal plates, etc.) and or provide feedback on the City of Atlanta's public works services.
Security
Building security in the Capitol Hill is provided by the Capitol Police Services Unit.
Snack Bars
Georgia Vocational Rehabilitation, through the Business Enterprise Program, operates Snack Bars in GBA facilities.
State Holidays
List of state holidays when all GBA Facilities will be closed.
Transportation 
The Capitol Hill complex has many forms of transportation available to state employees and the general public.
Weather on the Hill
Current weather conditions for Atlanta, Georgia.
Related Links
State Employees - Related Links
State Employees - Related Links