74117526GenPublicSvcsCollage.jpg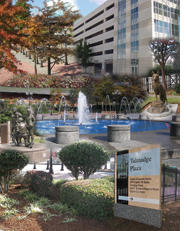 The following services and resources are available to Georgia citizens.
ATM Locations
Automated teller machines located in GBA facilities.
Cafeterias
Operates two cafeterias on Capitol Hill and the surrounding areas.
Catering & Facility Rentals
GBA operates six banquet/meeting facilities on Georgia's Capitol Hill Complex.
Commemorative Flags
Commemorative flags of the United States and the State of Georgia are available to the public through the Georgia Building Authority.
Liberty Plaza
A public plaza located across from the Georgia State Capitol large enough to accommodate over 3,000 visitors.
Public Parking 
Parking Services coordinates the availability and safe use of parking facilities for state employees, contractors and visitors.
Public Tours 
The Georgia State Capitol and the Governor's Mansion offer tours for the public.
Security
Building security in the Capitol Hill is provided by the Capitol Police Services Unit.
Snack Bars
Georgia Vocational Rehabilitation, through the Business Enterprise Program, operates Snack Bars in GBA facilities.
State Capitol Public Space Scheduling
The public can request to schedule the temporary use of the Capitol building's North Wing, South Wing and Rotunda.
State Holidays 
List of state holidays when all GBA Facilities will be closed.
Steve Polk Plaza
Outdoor plaza area located at 65 Martin Luther King, Jr. Drive, next to Underground Atlanta.
Transportation
The Capitol Hill complex has many forms of transportation available to state employees and the general public.
Weather on the Hill 
Current weather conditions for Atlanta, Georgia.
General Public - Related Links