Billable Service Requests
736873501MLKConstructionPhoto2.jpg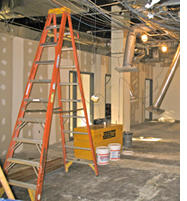 Tenant Services is the central point of contact for designated Agency Facilities Coordinators to request billable services from GBA. Examples of billable services include requests for office renovations or painting, installation of new electrical circuits, and workstation reconfigurations. Other billable services include moving services, signage, and name plates. Requests can be e-mailed to tenantservices@gba.ga.gov or made in writing and mailed to:
Tenant Services Manager
Georgia Building Authority
1 Martin Luther King, Jr. Drive, Atlanta, GA 30334
Related Links
Designation of Agency Building Access Coordinators Form
Designated Agency Facilities Coordinators List
Individuals listed below are authorized to request billable services from GBA. Use the form above to designate new coordinators. Contact tenantservices@gba.ga.gov to request that an individual be removed from the list.
Billable Service Requests - Code Block