Building Access Services for Agency Coordinators
AccessCardPhotos.jpg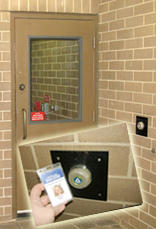 GBA Building Access Office
270 Washington Street, SW, Suite 2101
Atlanta, Georgia 30334
Hours: 8:00 a.m. - 4:00 pm. M-F
Phone: 404-656-3251
GBA Building Access Services office is responsible for managing the issuance of Capitol Hill access cards and keys to GBA facilities.
Agency Access Coordinators maintain accurate employee access information for their facilities and collaborate with the Building Access Office.
Related Links

Capitol Hill Access Control System Overview

Agency Access Reports PowerPoint Presentation (8-26-10)
Building Access Request System

Designation of Agency Building Access Coordinators Form

Building Policy
Designated Agency Building Access Coordinators List
Individuals listed below are authorized to request building access for their employees. Use the form above to designate new coordinators. Contact petra.anderson@gba.ga.gov to request that an individual be removed from the list.
Building Access Services for Agency Coordinators - Code Block