67482165PeteHackneyParking.jpg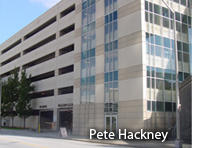 GBA provides parking for state contractors working in the Capitol Hill Complex, through a contract with the state of Georgia, based on availability. Contractors are eligible for parking at locations that do not have waitlists, which is currently Pete Hackney. The Pete Hackney Parking Deck is located at 162 Jessie Hill Jr. Drive, SE at the corner of Jesse Hill Jr. Drive and Decatur Street, just blocks from the Capitol.
Hours of Operation
The Pete Hackney Parking Deck is open Monday-Friday, 6:00 AM-7:00 PM. Roll down doors are connected to the card reader system. Maximum height: 8' 2". Monthly permit holders may access the location 24/7 by using their parking permit. Parking facilities are closed on State Holidays. Events scheduled through the Georgia Building Authority may affect hours of operation.
Payment
Parking for contractors is $40 per month per parking space. To apply for parking, contractors must come to the GBA Parking Office to set up an account and make payment before parking will be secured. The account can then be managed online. Monthly payments must be made by 4:30 p.m. on the 5th day of every month.
Replacement Hangtags & Transponders
A $20 replacement fee will be charged for lost, stolen or damaged Hangtags.
A $30 replacement fee will be charged for lost, stolen or damaged Automatic Vehicle Identification (AVI) Transponders/Hangtags.
GBA Parking Office
270 Washington St., SW, Suite 1144
Atlanta, Georgia 30334
Hours: 8:00 a.m.-4:00 pm. M-F
Phone: 404-656-3251
Fax: 404-651-7518
Related Links
Electric Vehicle (EV) Charging Stations
Frequently Asked Questions about GBA Parking Services
Map of GBA Parking Locations
My Parking Account
Parking Policy