February 14, 2020
First Lady Marty Kemp Hosts First Self-Defense Class in the State Capitol
3.png

sdc1.jpg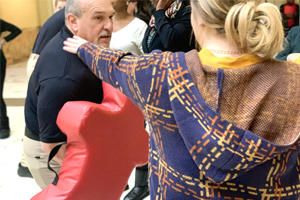 Atlanta, GA – (January 30, 2020)   First Lady Marty Kemp, in support of her partnership with the Georgia Public Safety Training Center (GPSTC) and Georgians for Refuge, Action, Compassion, and Education Commission (GRACE),hosted a self –defense class in the North Wing of the Georgia State Capitol. The event focused on combating human trafficking through teaching self-defense techniques.
sdc4.jpg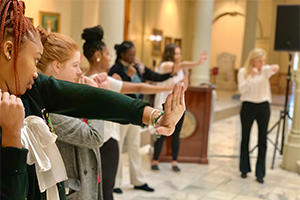 State employees, staff, and citizens joined the  First Lady for the early session. GPSTC-certified instructors led the one-hour demonstration to teach warning signs of impending danger, techniques for de-escalating tense situations, and self-defense maneuvers. Specific skills learned included chokehold, elbow strike, grab, takedown, hammer strike, and groin kicks.
sdc2.jpg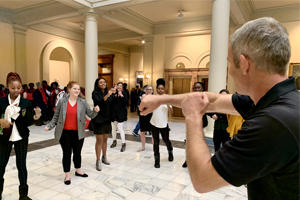 As an initiative of First Lady Marty Kemp, the GRACE Commission was formed in February 2019 to combat the threat of human trafficking in the State of Georgia. First Lady Kemp is challenging all 80,000 State of Georgia employees to complete Human Trafficking Awareness Training. The online module will help identify potential cases of human trafficking, provide tips for interacting with possible victims, and give available resources to aid in the investigation.
To complete Human Trafficking Awareness Training, click here.